Services
Black and Black Dental has provided family and cosmetic dentistry to Willow Street and Lancaster County, PA since 1961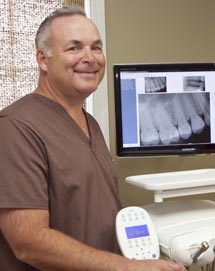 Dr. John and the staff at Black & Black Dental offer a variety of services to keep your teeth healthy and looking great!
Preventative care and dental examinations
Maintaining good oral health begins with regularly scheduled preventative dental cleanings. The American Dental Association recommends dental cleanings twice per year. Dental cleanings not only remove plaque and tartar from your teeth, but also help to maintain healthy gums. Regularly scheduled dental examinations help to detect decay or other dental problems early. Earlier diagnosis leads to less invasive procedures to fix any problems.
Tooth-colored fillings
Tooth colored composites are the most advanced alternative for fillings. The composites are bonded to the tooth and help prevent breakage of the tooth. They replace the traditional silver mercury amalgams because they look more natural in your mouth and are better for your teeth.
Porcelain veneers
Veneers help you to achieve the smile you want. These porcelain shells are strong restorations applied to the front teeth to improve teeth color, size or shape. Veneers may be used to correct discoloration from medication or age, repair teeth that are chipped, or fill in gaps between teeth.
Sealants
Sealants are a safe and low-cost way to help protect your child's back teeth from decay. A clear coating, the sealant, is bonded to the grooves of molars and premolars. The sealant covers the grooves in the teeth preventing food and bacteria from entering the grooves and causing decay.
Teeth whitening
At Black & Black Dental, we offer three different teeth whitening options for you. The first two options involve the creation of custom-fitted trays that are worn over your teeth. A solution is placed in the trays and the trays may be worn at night while you sleep. Or if you prefer a daytime routine, Day White whitens teeth in only 30 minutes twice a day. The third teeth whitening option available to you is ZOOM! ZOOM! is a convenient solution for anyone wanting immediate results. In one visit, the ZOOM! procedure breaks up stains and discoloration from your teeth creating a whiter and brighter smile.
Dental implants
Dental implants look and feel like your own teeth. Patients choose implants when disease or an accident ends in tooth loss. Implants are surgically placed and then Dr. John places a crown on the implant to blend in with your other teeth. Advantages of a dental implant include filling in a gap between your teeth, maintaining your bite, helping to avoid shifting teeth, and allowing you to chew your food as you did before losing a tooth.
Crowns
Crowns help restore damaged, broken or decaying teeth to strong beautiful teeth. Dr. John uses only the highest quality materials available to create a crown. Your quality crown will blend in with your other teeth creating a natural look to your smile.
Bridges
A bridge is one or more replacement teeth attached to the natural teeth or crowns on either side of it. Replacing missing teeth makes it easier to chew, improves your appearance and helps keep your jaw healthy.
Dentures & Partials
The partial restores your smile and allows you to chew more easily and with greater comfort. A partial denture is made up of one or more replacement teeth. One of the biggest advantages of a partial is you may replace multiple missing teeth with one removable appliance.
Root Canal Therapy
If you have a tooth whose internal structures are damaged, you may benefit from root canal therapy. Removing damaged tissue from the inside of your tooth's root may help to save your unhealthy tooth.
New!


VELscope Vx Cancer Screening

The VELscope Vx is a hand-held device used by dentists and hygienists to aid in the early detection of a wide variety of oral diseases, including pre-cancer and cancer. Used in conjunction with the conventional head and neck exams, the VELscope Vx facilitates the discovery of abnormalities before they become visible under ordinary light. The VELscope Vx is the only non-invasive adjunctive device clinically proven to help discover occult oral disease.

Learn more at http://velscope.com/about_velscope/why_velscope_vx/