Black & Black Dental's number one priority is the health and safety of our patients and dental team. As concern about COVID-19 virus grows, we have decided to close Tuesday, March 17th at
5 pm until further notice.
We will continue to monitor the rapidly changing conditions and make any other changes needed to respond.
During this time, we will see our patients who have a dental emergency. If you are a patient of record, please call our office at 717-464-3223 and our answering service will assist you.
MESSAGE TO OUR PATIENTS REGARDING CORONAVIRUS (COVID-19)
The coronavirus is impacting our lives in ways we never could have imagined. Black & Black Dental always practices stringent cleaning and disinfection strategies. The health and safety of our patients and our dental team is our top priority. We are actively monitoring the Novel Coronavirus situation and have implemented several new measures.
We have educated our employees on best practices to help minimize the spread of the virus, including frequent handwashing, staying at home if experiencing any flu-like symptoms, and self-quarantining after exposure or after traveling to CDC-designated Level 2 and 3 regions throughout the world.
We are asking our patients to observe the same practices as our dental team. If you have flu-like symptoms such as a cough, fever, or newly developed shortness of breath, and/or if you have traveled to CDC-designated Level 2 and 3 regions throughout the world, we ask you to reschedule your appointment.
For those patients visiting our office, we have implemented additional safety measures that are posted in the office.
Thank you for being a part of our dental family. We will get through this together. Stay healthy and practice good hand hygiene.
Black & Black Dental LLC
Providing state-of-the-art family and cosmetic dentistry to Willow Street and Lancaster County, PA since 1961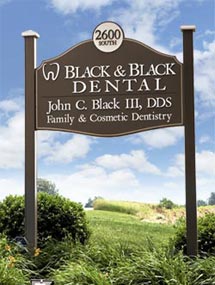 Our office is conveniently located near the intersection of Willow Street Pike South (Route 272) and Route 741. For directions, click here.
Black & Black Dental is a dental practice offering family and cosmetic dentistry located in Willow Street, PA. Founded in 1961 by Dr. John C. Black, Jr. ("Dr. Black," now retired) and joined by his son Dr. John C. Black, III ("Dr. John") in 1989, we've been serving area families for fifty years, first in our home/office on Willow Street Pike North and now in our current location on Willow Street Pike South.
Because our roots are here in Willow Street, Lancaster County, we remain dedicated to providing small town, family-oriented service while providing state-of-the-art dental technology and techniques to keep our patients smiling.
Our Mission
We are a dedicated team of professionals committed to providing the highest quality dentistry in a caring environment. We are committed to education that refines and updates our knowledge, skill and expertise so that we may provide excellent, state-of-the-art dentistry.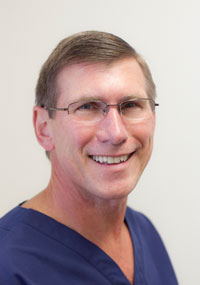 It is with a heavy heart that Dr. John shares with you Paul Ahnert left this earth for his heavenly home on Tuesday, October 29, 2019. As most of you know, Paul retired in June of 2018. Paul wrote a message to his patients. In his message he included the following:
"I officially retired from Black & Black Dental on June 30, 2018 with 30 years experience. I was not ready to yet, but serious medical issues and the need for immediate treatment made retirement necessary. I will miss everything…great job, good relationships with employer and co-workers. I was blessed with the team's respect, support, and friendship, allowing me to be my best and do my job well."
Paul was 66 years young, and we miss him each and every day.
New!


Oral Cancer Screening with the VELscope Vx

Black and Black Dental is proud to introduce VELscope Vx oral health screening technology to our patients. The VELscope Vx device allows for more advanced detection of cancer, precancer, and other oral disease than a typical screening with a painless light shined into the patient's mouth. No rinses or stains are required. The VELscope Vx's "ring of light" causes the healthy tissue to flouresce and glow green, while potential areas of concern remain dark. As a result, it allows your hygienist to more easily detect potential problems than could be seen with the naked eye.

For more information about the VELscope Vx, visit http://velscope.com/about_velscope/why_velscope_vx/
Here's what some of your neighbors have to say
about Black & Black Dental
For many years I have been a patient of Black & Black Dental, and have always been satisfied with my treatment. The office staff are pleasant and friendly, the equipment up to date, and Dr. John is always ready with a detailed explanation if there is any question about procedures.
Recently, he took time from his vacation, along with his chairside assistant, to open the office and see me after I had fallen and shattered two front tooth crowns. His immediate treatment saved the teeth. I couldn't have been more appreciative. He is a skilled, dedicated dentist who not only cares for my teeth, but cares about me as his patient.
Sincerely,
--N. H. H.